Filter by Publication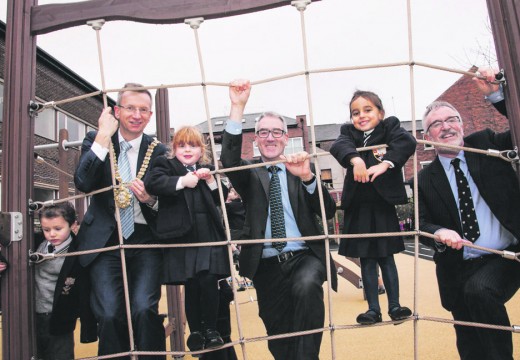 Lord Mayor Alderman Brian Kingston, Mr Naismith MCB Principal and Mr Jennings Head of MCB Prep with pupils
The Parent Teachers Association of Fullerton House, Preparatory Department of Methodist College Belfast, have always been committed to organising an excellent variety of events to help raise funds for special items of school equipment. Over recent years this has included the complete refurbishment of a new library at the school and the provision of iPads for use by the children. However, in 2014 the idea of installing of a new, state of the art, "soft pour" playground was conceived as their most ambitious to date.
The original playground had two old mobile classrooms, an old climbing frame and a small area of soft play surface. Over the years, the tarmac areas had broken up and become stony which resulted in too many cut knees. It was the aim of both the College and the PTA to refurbish the entire playground.
Two years of fundraising were put aside to pay for the refurbishment and the College used its Development Fund to allow the more ambitious than usual project to take place. A series of fundraising events was subsequently held throughout the remainder of 2014, 2015 and into 2016, raising a total in excess of £27,000 to facilitate the clearance of the site, building and installation work. With substantial financial backing from the Board of Governors at Methodist College, who kindly agreed to contribute almost 50% of the total costs of the new £54,000 facility, a programme of works commenced during the 2016 summer break, and completion was achieved by the half term break in October.
The official opening took place during a week of celebratory activities embracing Belfast City Council's Healthy Lifestyles theme. Lord Mayor of Belfast Alderman Brian Kingston, who is a former pupil of Methodist College was present to officially open the playground by cutting a ribbon. The opening was attended by the entire Prep Department, former and current PTA members, College Principal Mr S Naismith and Head of MCB Preparatory Departments Mr A Jennings.
Alderman Kingston said: "Free time and how we make use of it is also an important part of education so I am sure the children of Fullerton House will take full advantage of this new playground to build friendships and team spirit through games and other social activities.
"I congratulate the parents association and the school for their hard work in realising this investment for the future. I remember the support and encouragement my teachers provided and I hope all the children here today will work hard but remember to have fun too.
"If I was providing a mark for today it would be a gold star for everyone involved," added the Lord Mayor.
Plans are afoot to further enhance the playground with apparatus that will assist in the educational advancement of the children.
Clients