Filter by Publication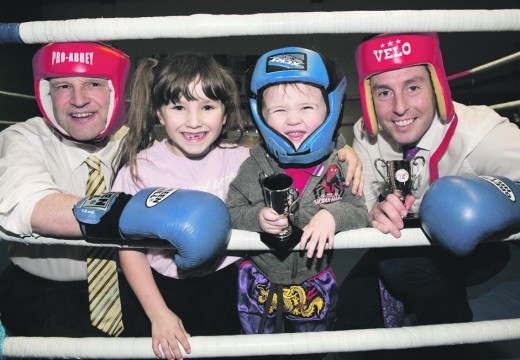 Pictured here at the new Bangor Abbey Boxing Academy at SERC are the club members, with  special guests at the launch including education minister Peter Weir and sports minister Paul Givan.
Bangor Abbey Boxing Academy, formally located on the Banks road Bangor, is moving into their new club base after extending links with South Eastern Regional College.
The Club hosted a launch event attended by specially invited guests including Sports Minister Paul Givan and the Minister for Education Peter Weir MLA to highlight the new club links. The launch began with an update from SERC Principal and Chief Executive Ken Webb. Guests were then treated to a boxing demo and a tour of the new facilities.
The popular club, which has honed the skills of many talented boxers, is looking forward to a bright new future after it announced moving to a new premise on Castle Park road Bangor. The move comes after the club was given notice to quit its base at Banks road because the space was to be sold, following many successful years there. The club is nearly fully operational at its new home, located at SERC's Bangor.
The club have exclusive use of a building at SERCs Bangor campus. The room has office space and small scale construction work is planned to make a sufficient open plan layout suitable for the boxing ring and equipment.
After switching premises, club officials are hoping to continue their success having honed the boxing talent of Melbourne Common Wealth Games competitors Shaun McKim four times ulster senior champion, Gary McClure Ulster Senior Champion, Ulster Champion Paul Moffett and Sarah Close European junior bronze medallist.
Ken Webb, SERC Principal and Chief Executive explains: "It's an exciting time for everyone involved with the new premises. The Club are already doing excellent work with young people across both sides of the community and engaging with those from disadvantaged backgrounds. They are already well grounded in the community of Bangor and we wanted to get involved to widen and encourage participation and share our services for the communities we serve."
Minister for Communities Mr Paul Givan MLA: "I am delighted to be attending Bangor Abbey Boxing Academy in their new premises in South Eastern Regional College. My personal thanks goes to Ken Webb SERCs Chief Executive for providing this new facility. I'm delighted that these new premises will open up new opportunities to encourage young people to take up sport and in so doing develop many spin off health and educational benefits.
Minister for Education Mr Peter Weir MLA: "I have known Sandy Rice personally for many years and his commitment to developing young boys and girls into great boxers is renown in North Down. Anyone well acquainted with Sandy will realise that along with the training goes his passion to see young people with renewed confidence, motivation and self-discipline."
Abbey Boxing Club Head coach Sandy Rice said: "We are delighted to have moved to such a fantastic location. This is our new base for Abbey and many thanks go to Ken Webb. We were looking for a new premise and he was the only one that offered us a lifeline."
The club welcomes members of any age, gender or background with both male and female members aged between 7-60 years old. If you are interested in boxing, whether or not you are located in the Bangor or Co. Down area, contact us to find out how you can participate. Anyone interested in joining the club can contact coach Sandy Rice on 07985476414.
Clients