Filter by Publication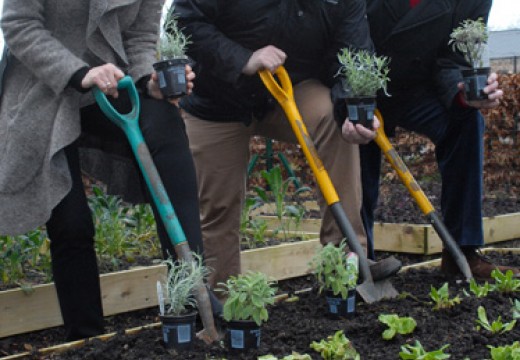 Peter Dalton from the Enkalon Foundation was joined by Southern Regional College representatives Orla Corrigan and Patrick Mulholland as they prepare to dig in for the Team Garden Challenge at this year's Garden Show Ireland event- which takes place in Antrim Castle Gardens from 9th - 11th May.
Supported by the Enkalon Foundation the Team Garden Challenge is open to everyone from community groups, sports clubs, charities, companies and colleges to groups of friends and families. With this year's theme of a 'Kitchen Garden', teams have to design a 3m by 3m garden and then build their plot in one day on Thursday 8th May - the day before the show opens at Antrim Castle Gardens.The finished gardens will be judged and awards presented to the winners. The gardens will be on display for the duration of the three day show.
Claire Faulkner, Director of Garden Show Ireland commented, "This is a fun team challenge. Teams can take as long as they like in advance to design their garden plot but only have a day to build it- which is where the fun starts! It is a great way to get people involved in gardening and we are delighted that the Enkalon Foundation are supporting this initiative for 2014."
The 2014 Garden Show Ireland will run from 9th - 11th May at Antrim Castle Gardens and is open daily from 10am-6pm with parking adjacent. Adults are £10 (concession £8) and the event is FREE for children under 16. There is a reduced rate for online booking and for more information visit www.gardenshowireland.com
Clients