Filter by Publication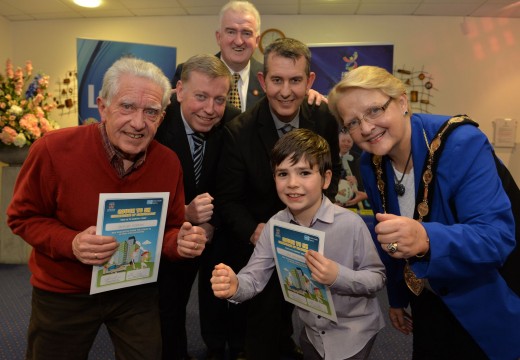 Last year the Council arranged the first 'Couch to 5K' Park Run initiative in Wallace Park.  Over 50 local residents successfully completed the ten week challenge.  
To mark their success Alderman Paul Porter, Chairman of the Leisure Services Committee and Health Minister, Edwin Poots, MLA recently presented them with certificates at Lagan Valley Island.  The Mayor of Lisburn, Councillor Margaret Tolerton was in attendance.
Alderman Paul Porter, Chairman of the Council's Leisure Services Committee, said: "I was delighted to have the opportunity to meet those local residents that were dedicated to undertaking the first 'Couch to 5K' programme last spring.
"It was evident from the participants that all ages of individuals can succeed at this challenge; and it was great to hear firsthand how each of them felt after proving to themselves that they could run 5K.  Such a milestone could not go unmarked so I was delighted to present each participant with a 'Couch to 5K' Park Run Graduation Certificate.
"The Council's Sports Development Unit was delighted by the uptake of this initiative that took place in 2013 when Lisburn celebrated being the European City of Sport.  As part of Lisburn's commitment to sport it was innovative on the opportunities that it offered to residents to participate in physical activity to improve not only their physique but also their mental health," he concluded. 
The second round of 'Couch to 5K' is currently underway and the Council wishes all the participants every continued success.
Clients