Filter by Publication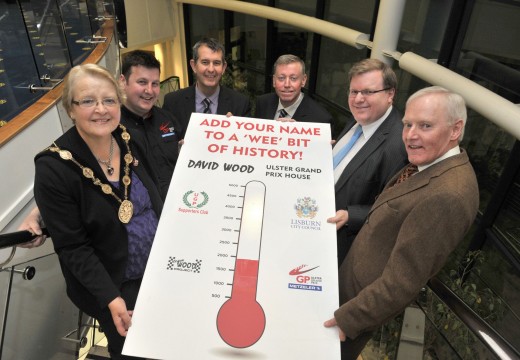 Since 1963 the Ulster Grand Prix Supporters Club has been a very important part of the Ulster Grand Prix held annually at Dundrod.
Lisburn City Council wished to acknowledge the significant work of this group, which has worked hard to raise money for this local sporting event since a crisis in 1963 when the Northern Ireland Tourist Board removed its funding from the event.
The Mayor of Lisburn, Councillor Margaret Tolerton officially welcomed everyone to the reception marking the important work and contribution of the members of the Ulster Grand Prix Supporters Club.  The reception was hosted by Alderman Paul Porter, Chairman of the Council's Leisure Services Committee.
Speaking at the event, Councillor Tolerton, said: "Lisburn City Council each year is delighted to have the Ulster Grand Prix take place within its boundaries; and it is a privilege to be able to acknowledge the work of local people who over the years have helped to provide vital funding support for the 'World's Fastest Road Race'."
The Ulster Grand Prix Supporters Club celebrated its 50th Anniversary last year.  In recent years the Club has benefited from generous donations from past and present club members.
Alderman Paul Porter, Chairman of the Leisure Services Committee and host, said: "As an avid fan of motorcycle racing I was honoured to have been able to host a reception to thank the members, past and present, of this very enthusiastic voluntary committee that over the years has contributed in excess of £1 million to the Ulster Grand Prix.
"Last year the UGP Supporters Club in partnership with the Dundrod and District Motorcycle Club launched the 'Buy a Block Campaign' to build a centre in the Pits area in recognition of David Wood.  Members of the two clubs, racing fans and the public had the opportunity to buy a block with their name on it for £5.  To date up to £10,000 has been raised and the Council supported an application to the Alpha Fund for further support.
"I am delighted to announce that the Alpha Fund has agreed in principle to provide £45,000 financial support to this project.  The David Wood Centre will not only provide a permanent memorial to the former road racer and manager of the legendary late Joey Dunlop along with other successful riders, but will be the location for committee and race meetings.  
"Lastly I would like to commend all the members of the UGP Supporters Club for their tireless dedication and fundraising efforts over the years and wish them every success as they continue to provide support for this very popular road racing event," he concluded.
At the reception there were speeches from Dessie Stewart, Chairman of the UGP Supporters Club; Norman Windrum, UGP Supporters Club; and James Courtney, President of the Dundrod and District Motorcycle Club who publicly extended his thanks to the UGP Supporters Club for all its support.
Clients