Filter by Publication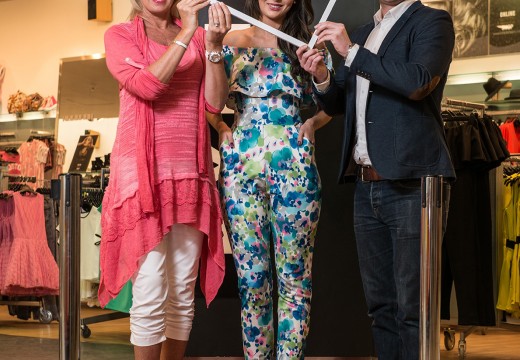 Are you the next face of Exhibit?

The Face of Exhibit 2014 contest invites would-be models across Lisburn to attend their local heat at Exhibit, Bow Street Mall to be in with the chance of being the face of Exhibit's next campaign, £500 in Exhibit vouchers, a year's modelling contract with ACA Models and Aer Lingus sun route flights.

One of Northern Ireland's leading fashion retailers Exhibit has joined with ACA models to launch the new Face of Exhibit 2014 competition.

The first ever Face of Exhibit contest in association with ACA Models invites young ladies, aged between 16-25 years old who embody the youthful, fun, fashion-forward spirit of Exhibit to compete to become the face of the shop's next advertising campaign and win a modelling contract with ACA Modelling Agency.
Hundreds of young ladies from across Northern Ireland and the Republic will have the opportunity to take part in the competition heats this Summer, which will take place in local stores across the country, starting on 26th April 2014 at the CastleCourt Shopping Centre store and will end at the Exhibit concession in Tempest, Coleraine on 23rd August 2014.
The grand finale will be held in Victoria Square, Belfast in September, where the winner will win a years modelling contract with ACA Models, £500 of Exhibit vouchers, two return flights departing from Belfast on an Aer Lingus sun route to Faro, Malaga or Palma and also become the face of Exhibit's campaigns for the next year.
Chris Rankin, Head of E-commerce for Exhibit said: "It is such an exciting time for Exhibit. We recently launched our e-commerce website, created our stunning Spring/Summer campaign and now we are launching the Face of Exhibit contest.
"Our customers give us as much fashion inspiration as our clothes give them, which is why we wanted to give something back with this competition.
"We're looking for a young woman who truly represents the brand, someone young, exciting, loves the current trends and that stands out from the crowd."
Alison Clarke, Director at ACA Models will form the judging panel along with Chris Rankin. Alison said: "Exhibit is a great local fashion brand that has been on our high streets for over 30 years and we're delighted to team up with them to find the next big thing in modelling.
We will be popping up in Exhibit shops across the country looking for the hottest new faces to complement the brand and to come with ACA Models as one of our fresh, new models."
Competition hopefuls are asked to register for free online or in store before attending the casting heats.
Event organisers are seeking aspiring young models aged between 16 and 25 to compete for the Face of Exhibit 2014 title at the final in September.
Entrants are asked to register for their heat at www.exhibitshops.com<http://www.exhibitshops.com> or pick up a form at their local Exhibit store.
Clients