Filter by Publication
EAST BELFAST STUDENTS GRADUATE FROM BELFAST CITY AIRPORT YOUTH LEADERSHIP PROGRAMME
September 2020 - The East Side Advertiser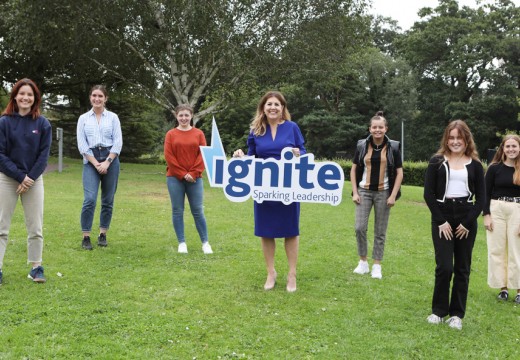 The IGNITE programme, a joint initiative between Belfast City Airport and Cinemagic launched in 2019 by Senior Vice President of HBO, Production and Incentives and Game of Thrones creator Jay Roewe, will provide potentially life-changing opportunities for over 100 young people across Northern Ireland over a five-year period.
Four students from Our Lady & St. Patrick's College, two from Ashfield Girls High School and two from Strathearn School who joined the IGNITE programme in 2019 completed twelve months of workshops, work experience and self-development projects and were awarded an NLP Diploma in Personal and Career Development at the graduation ceremony, held at the Maynard Sinclair Pavilion, Stormont Estate.
Michelle Hatfield, Director of Corporate Services for George Best Belfast City Airport commented:
 "At Belfast City Airport, community and education are two core pillars of our Corporate Responsibility strategy so we are thrilled that our IGNITE programme can combine both to make a real difference in our local community.
"The 2019 programme not only facilitated relationship building amongst the course participants themselves but also provided the opportunity for interaction and engagement with several local businesses and key organisations which could have long lasting benefits for all involved.
"This celebration event was a proud occasion, not just marking the achievements of the young people but also witnessing the positive impact the programme is having as a whole."
The event not only celebrated the phenomenal success of the 2019 IGNITE programme but also welcomed 21 new students from various secondary schools and Further Educational Colleges across North, South, East and West Belfast who have been chosen to embark upon the 2020-2021 youth development course.
Ashfield Girls High School, Belfast Met, Strathearn School and Wellington College all had students participate on the programme last year and have had students selected again for this year's course, whilst Aquinas Grammar School, Blessed Trinity, Campbell College, Christian Brothers Grammar School, Dominican College and St. Louise's are coming on board for the first time, with their pupils set to experience the extensive programme tailored and designed to build their skills set, future aspirations and self-confidence.
Clients