Filter by Publication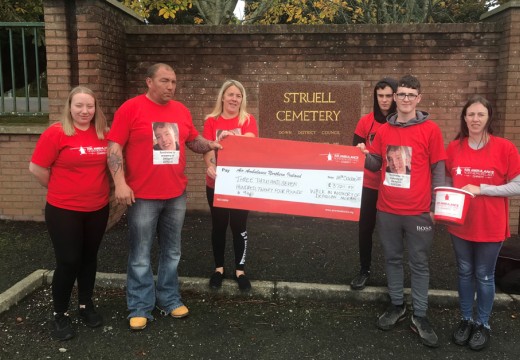 Photo Caption (from left-right)- Deaglan's sister, Meaghan, father, Lenny and mother, Fiona, Deaglan's good friends, Joseph and Seamus McCartan and good family friend, Tasha Shields.
The family of Deaglan Moran from Downpatrick, who sadly passed away on the 2nd February 2020, were delighted to hand over a donation to Air Ambulance Northern Ireland in memory of their son for £3724.94p.
Deaglan, aged 14, very sadly passed away following a road traffic collision in Downpatrick.  Deaglan's family wanted to do something in his memory and so decided to do a walk on Sunday 2nd August, what would have been Deaglan's 15th birthday.  The family invited local people, family and friends along to the walk asking for donations to the charity and were overwhelmed by the support they received.
Deaglan's mother and father, Fiona and Lenny said, "We really want to say a big thank you to everyone who came along and supported the walk on the day, both locally and from as far away as Derry and Belfast. 
"Between 200-300 people joined in on the walk and donated to the charity.  We also want to thank all the local shops, Gibney's Mace Store and Charlie Walsh's store for providing snacks and refreshments, and to our good friend, Tasha Shields and Deaglan's friends Seamus and Joseph McCartan who helped organise the whole event.  We can't thank the community enough for all their support to us as a family by walking and donating refreshments on the day and money to the charity."
Colleen Milligan, Area Fundraising Manager with the charity said, "It is absolutely heart-breaking that the Moran family have to deal with the loss of their young son, Deaglan.  As a charity, we are very grateful that they have chosen to support us at an extremely difficult time in their life.  We are humbled and want to pass on our sincere thanks and condolences to Lenny, Fiona and Deaglan's sister, Meaghan."
The charity Air Ambulance Northern Ireland, in partnership with the Northern Ireland Ambulance Service, provides the Helicopter Emergency Medical Service for Northern Ireland.  The service brings urgent medical assistance to anywhere in the province, operating seven days a week for 12 hours per day. It can get to anywhere in Northern Ireland in approximately twenty-five minutes.
Air Ambulance NI needs to raise £2million each year to maintain this service so public donations are crucial. Fundraising has been severely impacted by Covid19. If you would like to donate, organise an event or could spare some time volunteering, please contact Air Ambulance NI by email at info@airambulanceni.org or call 028 9262 2677.
Clients