Filter by Publication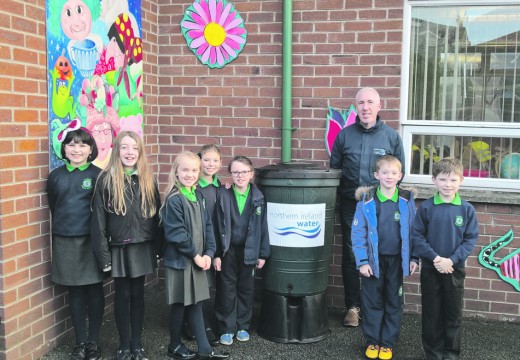 Pictured is NI Water's Pat McCauley with pupils from St. Finian's Primary School, Newtownards 
No more excuses for wasting water; NI Water is helping pupils at St. Finian's Primary School in Newtownards by providing them with a water butt to help them become smarter with their water in their school garden.
Pat McCauley, Environmental Education Officer at NI Water, commented on the importance of everyone becoming 'smarter with their water':
"We are delighted to help the kids at St. Finian's Primary School with their school garden. Everyone in Northern Ireland uses approximately 155 litres of water every day, and harvesting rainwater is a great way to set about reducing that figure.
''NI Water places immense importance on educating young people in the vital role water plays in our lives. When we visit schools, the children take home messages on how to save water and develop good habits, such as using a watering can instead of a hose, and using drought resistant seeds and gel packs in hanging baskets. Whilst learning themselves, the children are actually teaching their parents as well.''
"This waterbutt allows us to support the little growers at St. Finian's Primary School as they maintain their vegetables and plants."
Examples of how you can use water more wisely include:
Using watering cans around the garden instead of hosepipes and sprinklers;
· Using buckets to wash the car instead of a hosepipe;
· Not leaving taps running longer than necessary, for example when brushing teeth or washing vegetables;
· When using the dishwasher and washing machine, make sure it is a full load;
· Only filling the kettle as much as necessary; and
· Mend leaking taps - taps that drip once a second result in the loss of 33 litres of water a day.
Further information and advice can be found by logging on to www.niwater.com
Clients